Harry PottAR is an augmented reality mobile application that brings the wizarding world of Harry Potter to the real world. We leverage various design constraints such as time pressures, audio, interaction with virtual objects, interaction with real objects that affects the virtual world to provide a better narrative experience.
Location-based narratives provide intended action (conscious decisions by the interactor/player to do something, for example, go to a particular place) but they lack immersion. Augmented reality applications are lacking stories with compelling story beats and the payoff for intended action. By combining the two technologies, Harry PottAR suggests a future direction of interactive narratives
First things first
Success
Apart from being a very successful project that came out of the Spring 2016 Experimental Television Lab's project studio at Georgia Tech, the work done by me and my team was highlighted in IEEE Spectrum recently in an article written by Tekla Perry.
Project Overview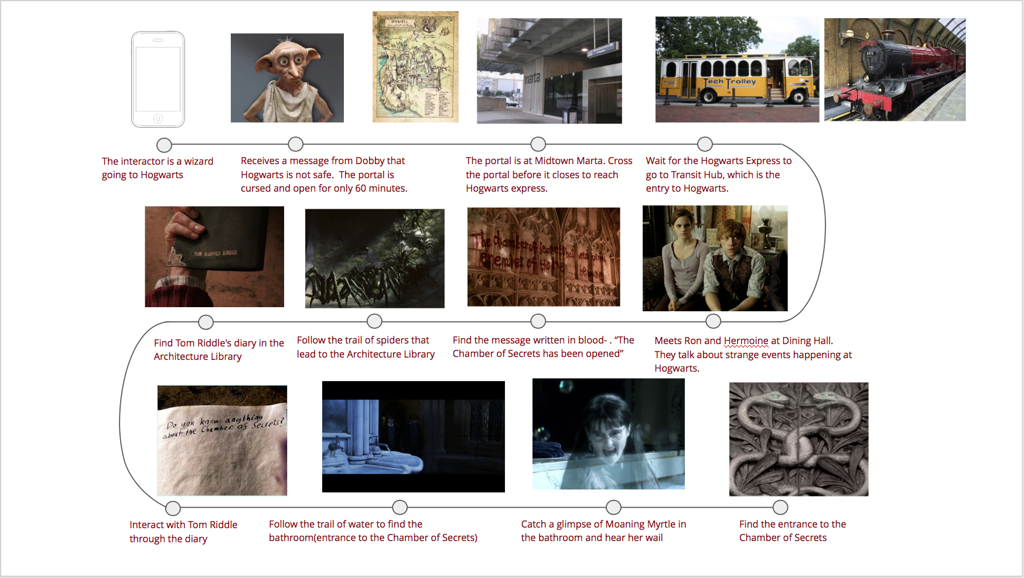 Research
Antecedent Review
Before beginning the design and the narrative design process we decided to look at other antecedents which were related to location-based games or Augmented Reality based entertainment experiences. These are the antecedents we reviewed Pottermore, Ingress, Geocaching, Pokemon Go (Pokemon Go wasn't released when we were working on this project, however, they had released a trailer) and The Walking Dead which was an academic project done by Qian Xie (a student at Georgia Tech). It is a mobile based narrative which leverages context captured by devices such as Fitbit to generate story elements which are presented to the interactor through AR and audio.
This exercise allowed us to define the design features that we would have to have in our experience.
Literature Review
We also reviewed the following literature to learn about the best practices to follow when developing narrative experiences for Augmented Reality - A Mad Tea Party (MacIntyre. 2001), Storytelling in Collaborative Augmented Reality Environments (Braun. 2003), Can you see me now? (Benford et al. 2006), A scale model of mixed reality (Barba et al. 2011), Along the Appian Way (Liestøl, 2014), Augmented Creativity (Zund et al. 2015). Our learnings were as follows
Location-based augmented reality games must provide a satisfying payoff for user's effort and intended action of travelling to a particular place
Leverage the affordances of real objects to manipulate the virtual environment. One way to achieve this is by overlaying virtual elements on top of real world elements with similar affordances.
Use augmented reality to enhance specific objects/architectures in the real environment either visually or in some other way to provide dramatic agency.
Interaction - Point and experience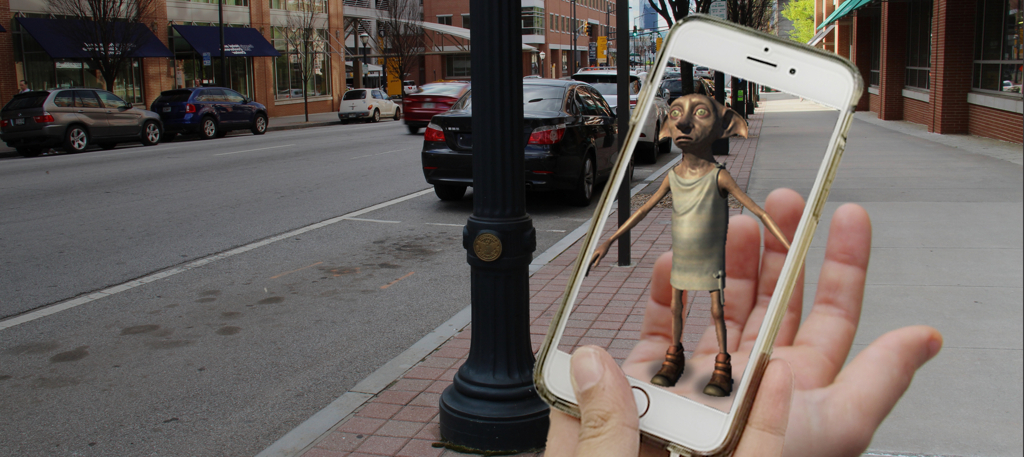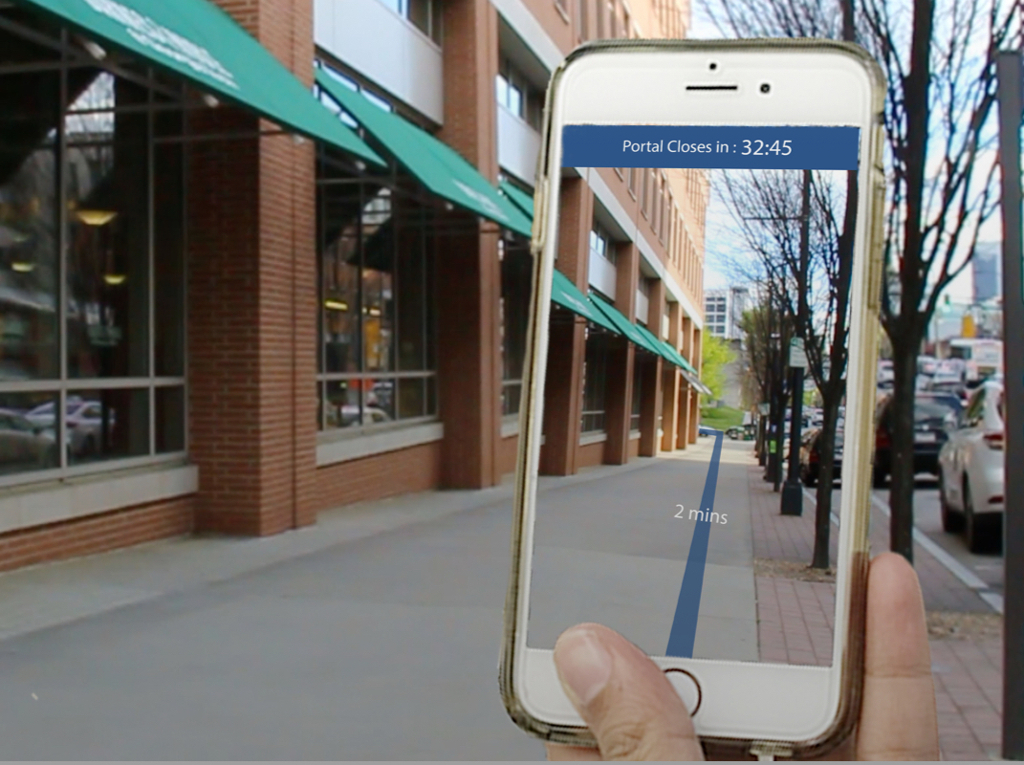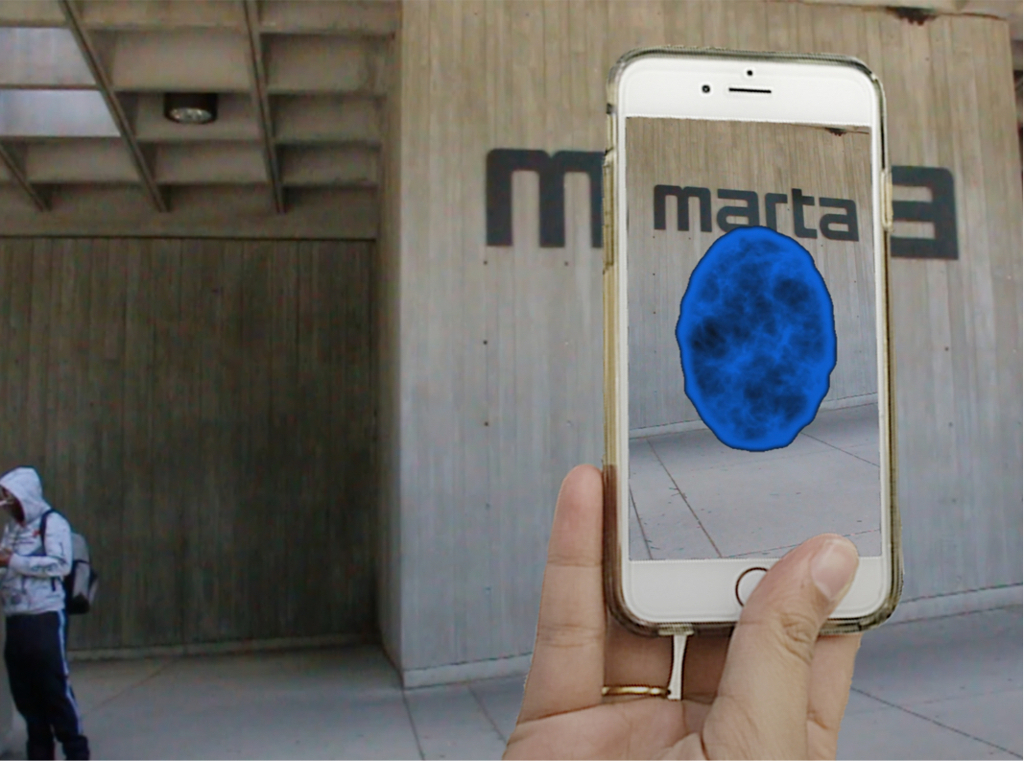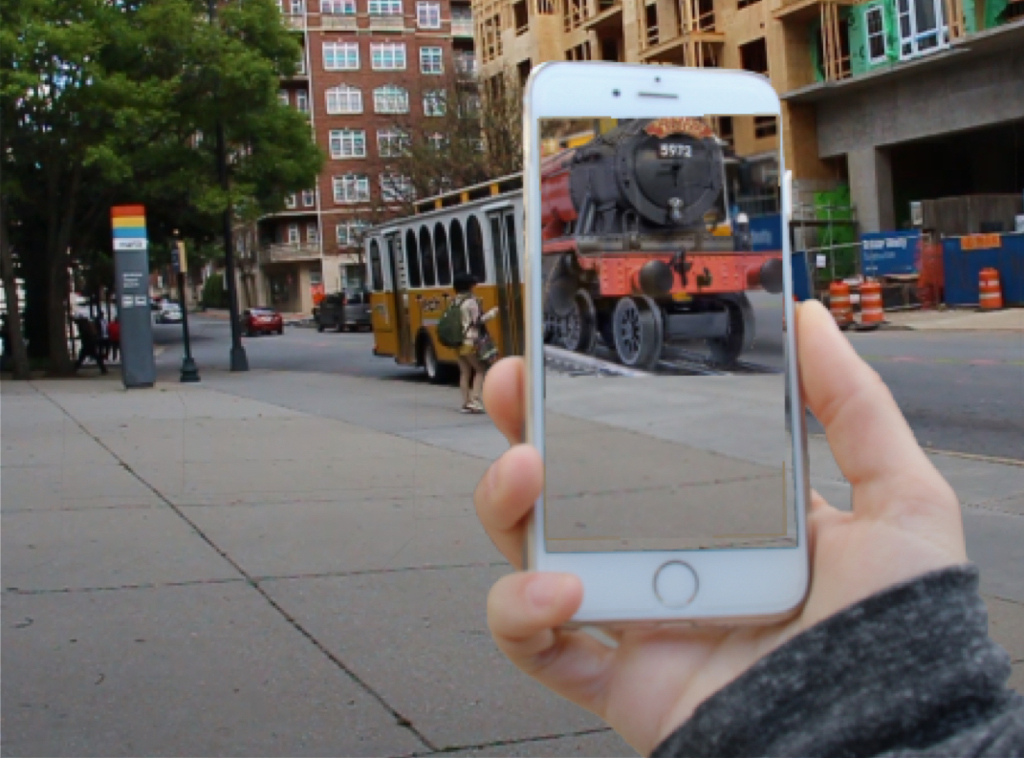 Hallway Testing
To test our prototypes we conducted an a modified hallway testing session with Industry professionals who were invited to see the demos from eTV Lab at the GVU research showcase (an event that takes place every semester where industry professionals from Atlanta and beyond are invited to experience the projects that are being undertaken at students at Georgia Tech). We received 10 participants who were professors, designers from media companies such as Turner, Cartoon Network etc. They had enough experience to be called experts in the field. The feedback we received from them is summarised below.
Things that worked
Using audio and time pressure to fill the disconnect between point A and B in existing location-based apps is a good design choice.
Satisfying Pay-offs

Seeing the Georgia Tech express convert into the Hogwarts Express.
Seeing and hearing Dobby on Hand
Getting to stab Voldemort with a real object (at the end of the story)

Potential for amazing use cases

Such experiences could take theme park experiences to another level
Applications to historic journalism or flash-back journalism
Apply different stories to different locations, not just Harry Potter @ GT. Users would want to be able to "stumble upon" stories/experiences like random stories that would happen in Midtown Atlanta.
Things that need improvement
The narrow field of view of mobile phones requires interactors to move the phone quite a lot to scan the world. Experimenting with other mediums of AR might help (like Hololens, although HoloLens also suffers from small field of view problems)
The Georgia Tech environment didn't match the story. The experience would be significantly better if we added special effects like they do in the movies. For example, adding smoke around the Hogwarts express would definitely contribute to a greater sense of immersion.
There were doubts that our current mode of audio and navigational cues to guide users from one location to another might not be enough, although they were a good beginning.
We also had recommendations to think about providing social and personalised narrative experiences depending on the interactors playing.